World Petrochemical Conference 2020: What you missed
​Lorax EPI's US Managing Director Victor Bell was scheduled to present at the 35th Annual World Petrochemical Conference last month in New Orleans. While the in-person event has been postponed until next year, Bell has recorded his presentation, Introduction to Policy and Infrastructure, and it is now available for distribution.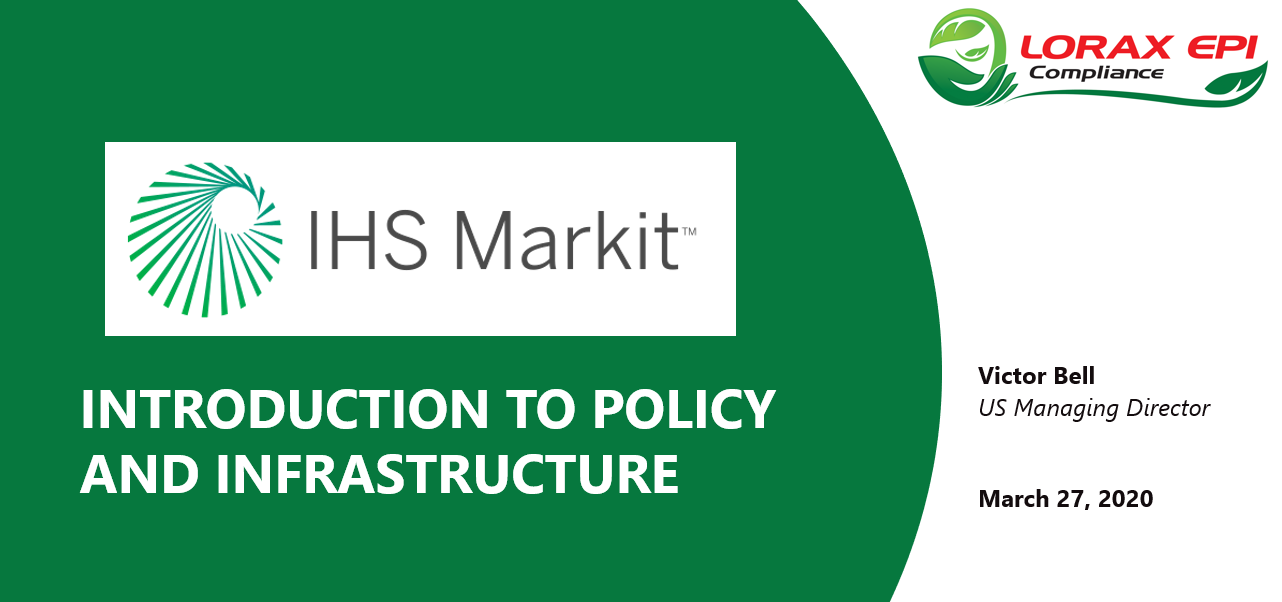 Here is a look at some of the topics covered in his presentation:

Brand Owner Commitments
The Ellen MacArthur Foundation's New Plastics Economy Global Commitment now has over 450 signatories. These businesses, governments and organisations are committed to 2025 targets to:

Eliminate problematic or unnecessary plastic packaging

Transition to packaging reuse models, where relevant

Create 100% reusable, recyclable or compostable plastic packaging by design

Effectively reuse, recycle or compost all plastic packaging

Decouple plastics usage from finite resource consumption

Eliminate hazardous chemicals in plastic packaging
To track progress, The New Plastics Economy follows the Ellen MacArthur Foundation's definition for recyclable packaging. According to EMF, packaging is recyclable if its 'successful post-consumer collection, sorting and recycling is proven to work in practice and at scale.'
'In practice and at scale' is achieved if a particular packaging format reaches a 30% post-consumer recycling rate for a population of at least 400 million, or on markets where the packaging is sold.

Government Commitments
'We also have a lot of new government regulations and requirements that are going to dramatically affect the plastic industry,' says Bell. Examples of regulations include:

All Member States are beginning to implement the EU Circular Economy Package and amended Packaging & Packaging Waste Directive, including updating existing EPR programs or establishing new schemes to cover more products within the next few years.

By 31 December of this year, the packaging Essential Requirements will be updated to reflect EU-wide goals established within the Packaging & Packaging Waste Directive.

A global and rapidly-growing trend towards national, state/provincial and local single-use plastic bans.
Packaging EPR and Eco-Modulation
Since 2000, packaging EPR legislation has been spreading all over the world. Even in the United States, one of the only countries with no form of packaging EPR in effect, the industry is beginning to see EPR as a necessary tool to build plastic collection, sorting and processing infrastructure. 'Without this kind of money, these systems will collapse – and that's why they're collapsing in the United States,' Bell says.
The growth of eco-modulated fees in EPR schemes is expected to not only expand, but also effectively eliminate difficult to recycle plastics. France's household packaging EPR scheme Citeo, for example, has raised its fee so high for packaging containing PVC that the material may be driven out of the market entirely.
While schemes around the world are beginning to design eco-modulation fees that discourage companies from using certain types of plastic packaging (black/opaque, full sleeve labels, above or below a certain size, etc.), fees at the same time are used to encourage the use of valuable plastics (clear PET, rigid plastic, recycled content use, etc.). ​

To watch the recording of Introduction to Policy and Infrastructure, please click here.

Click here to receive regular updates on blog posts, webinars, and regulatory changes directly to your inbox