​As always, the Edie Live conference at the National Exhibition Centre was full of interesting and topical talks and debates. The main themes included single-use plastics and how to reduce these in addition to the need for introduction of extended producer responsibility (EPR) so producers take on the cost and responsibility of packaging and packaging waste.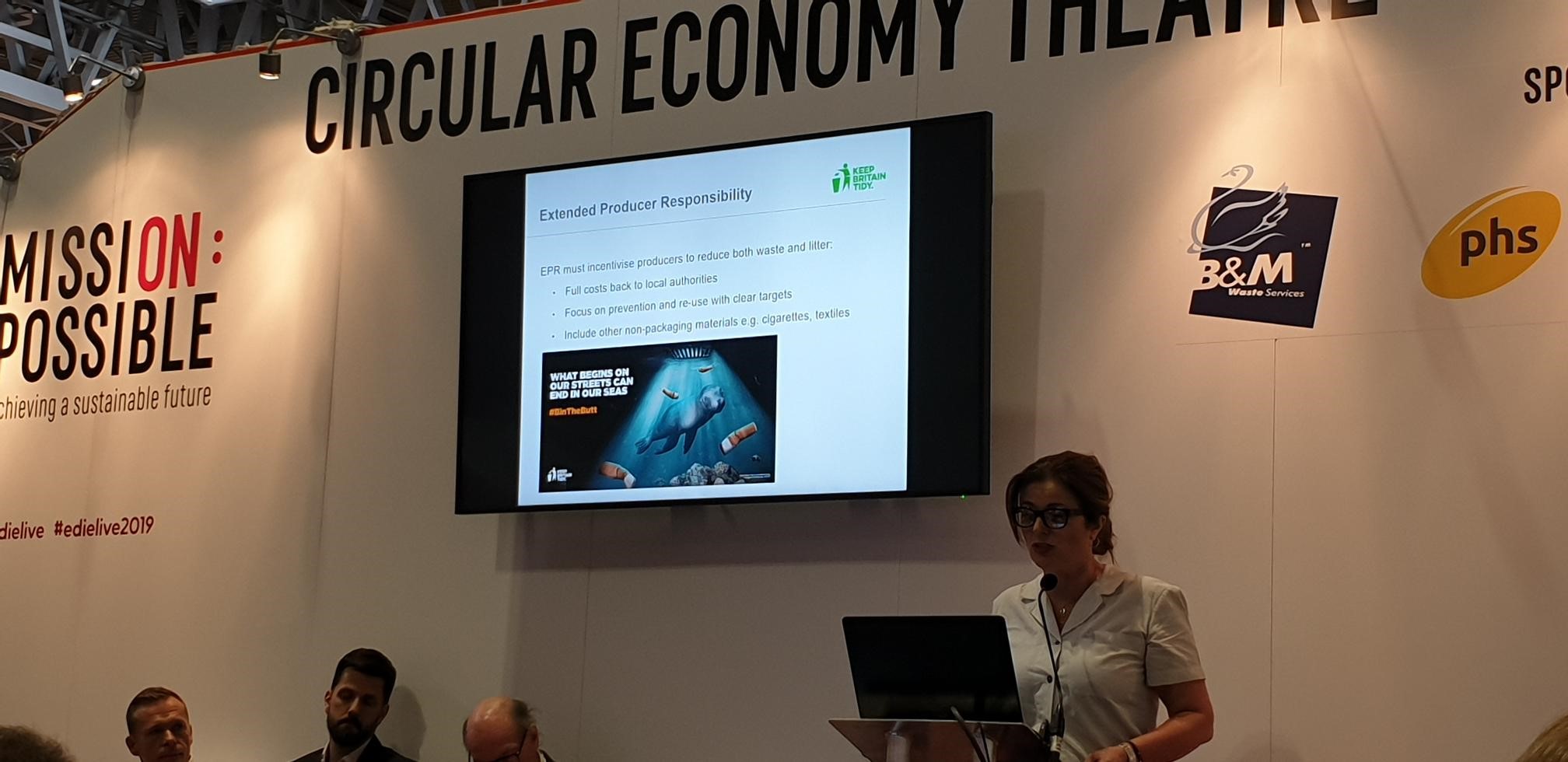 The big business plastics debate: part 1 – Strategy
The first debate of the day brought together sustainability professionals to discuss the strategy and solutions to eliminate single-use plastics. Fiona Ball, Group head of inspirational business and Sky ocean rescue at Sky spoke about the transformation and goals in their business. Sky aims to be single-use plastics free by 2020 and they are working with their business partners and suppliers to achieve the same goal. By working with suppliers, the changes made can have an even bigger impact when these are passed on to all of those suppliers' customers. The Sky ocean rescue campaign uses their voice to inspire action. Sky has a large reach and uses documentaries on Sky news to educate the public as well as calling on government to adopt policy changes. In addition, Sky is working alongside WWF in an initiative to make oceans resilient. They also encourage and support innovation through a £25 million venture fund for innovative ways to eliminate single-use plastics. Mike Hanson, Head of sustainable business at BaxterStorey, a food service company explained their measured approach to the plastic problem. For the food industry, plastic packaging is extremely valuable and there are many factors which must be taken into consideration when considering sustainability. Alternatives to single-use plastic must be cost effective, volume effective, must fit into existing waste streams and the life cycle analysis of that packaging must be taken into account. They must also consider the waste hierarchy and most importantly choose packaging which reduces food waste and extends shelf life. The alternatives must be considered for their negative environmental impacts instead of making changes to anything other than plastics, without considering the consequences of this. Hugo Tagholm, Chief executive at Surfers Against Sewage spoke about how his organisation set out to reduce the amount of sewage ending up in the ocean. Their efforts were successful and made huge reductions, but now plastic is their sewage. They carry out beach cleans and audit the branded plastic they find. A lot of the problems they find can be dealt with at the design and production stage alongside introducing EPR so the producer takes ownership of the packaging when it becomes waste. Legislation is required to incentivise and penalise industry into making changes.
Britain and resource efficiency policy: A new direction for business
Professor Pau Ekins, OBE, spoke about the combination of instruments needed to move towards a circular economy. Including incentives for consumers, clear direction from governments and requirements for producers to design right. Allison Ogden-Newton, Chief executive from Keep Britain Tidy aims to promote a waste and litter free society. We see examples of countries, such as Japan, with well thought out waste systems who have no litter. The national litter survey revealed the 3 most littered items to be cigarette butts, confectionary wrappers and soft drink containers. It is clear that manufacturers need to take on the responsibility and cost of packaging which is now largely on the taxpayer. The governments resources and waste strategy was much needed after years without one and stagnating recycling levels. The introduction of EPR should focus on reuse and recyclable packaging with clear targets. Marcel Arsand, Chairman of Can Makers gave an overview of can recycling which has the highest recycling rate for beverage packaging. Unlike a lot of packaging materials, cans don't rely on export for recycling as most are recycled in the UK or mainland Europe. In addition, material quality doesn't degrade with recycling unlike it does with plastic, cans are easy to separate and recycle with existing infrastructure. When it comes to introducing a deposit return scheme in the UK, deposit values should be varied based on the size on the containers. Cans tend to be smaller and will be at a competitive disadvantage if a larger plastic bottle comes with the same deposit value, making it cheaper for the same volume of liquid. There are additionally other materials which could be included such as coffee cups, cartons, pouches. Recyclability by design should be promoted through the use of modulated fees for producers.
Making circular real: Driving internal engagement on resource efficiency
Michelle Norman, Corporate affairs and sustainability director at Lucozade Ribena Suntory stressed the need to look at the benefits and value of plastics. Consumer consciousness of the plastic problem is increasing, but without action this doesn't always following through and plastic bottle consumption is still increasing. EPR is needed to align industry and engage consumers to move to a circular economy. The Ribena bottles they produce are made from recycled bottles which comes from recycled bottles as a result of the DRS in the Netherlands. Oliver Resevear and Jodi Wheatley from Costa Coffee talked about how Costa have found a discount for consumers using a reusable cup was not proving to be effective. The company has a lot of reach in terms of their team members in the cafes. By keeping their employees engaged and informed, they can pass on their knowledge and enthusiasm onto customers. There is a need to use EPR to make consumers redefine waste and see it as a resource.

The big business plastics debate: part 2 – Implementation
Tor Harris, Head of CSR, agriculture and health at Waitrose shared the progress they made in reducing and improving packaging in their stores. Waitrose have reduced the packaging on their products by 50% and around 80% of the packaging they do use is widely recycled. She spoke about considering materiality against perception and the need to look at all the evidence to make decisions rather than making quick uninformed decisions. In supermarkets they have to consider food waste, hence removing single-use plastics would hugely increase food waste which then has a negative effect on carbon emissions, etc. Waitrose future action will include making all their packaging widely recyclable, home compostable or biodegradable by 2030. They aim to redesign their 'consumable' packaging such as deli wrap, disposable cutlery and plastic bags in addition to changing consumer behaviour to use more reusable packaging they can bring into store themselves. Next, Charles Joy, Head of Corporate sustainability and responsibility at the Bank of England talked us through the Bank's response to climate change and reducing their environmental impact. They started to tackle single-use plastics and coffee cups used by employees. Previously around one million disposable coffee cups were being used by staff a year. To reduce that, a 30p charge was added to disposable coffee cup, which they found had a greater impact than a discount on reusable cups. Communications were used to promote reusable cups and any remaining disposable cups were switched to plastic free alternatives. Hot drinks machines were phased out and single-use plastic cups were removed from water fountains. Overall, plastic items have been reduced by 80%, saving 2,000,000 items a year. In addition, the bank's switch to polymer bank notes resulted in notes that last at least 2.5 times longer that paper ones. This reduces raw material use, transport, etc. and creates significant carbon reductions. Fiona Llewellyn, Senior marine project manager at the Zoological Society of London (ZSL) explains how they use plastic bottles as their 'flagship species' and a gateway to get people thinking about other environmental issues as well as how they use and misuse plastics. Londoners on average each use 175 plastic bottles per year, the ZSL is running a campaign to change this. Their aim is to change the system through a shift to a refill culture. They use a pioneers network of people making changes, for example the Mayor of London has installed water fountains around the city.
Supply chains, frameworks and standards for circularity
Mark Dempsey, Sustainability manager and environmental policy advisor at HPInc talked about their challenge of ocean bound plastic. The company has had a recycling program for printer cartridges for 25 years. The cartridges are taken back free of charge, recycled and used for the manufacture of new cartridges. Recycled plastic bottles are also used in new cartridges, the use of recycled plastic reduces the carbon footprint by 42%. HP have launched a project in Haiti using recycled PET to manufacture new projects. There is an estimated 250 tonnes of ocean plastic around Haiti and HP's project creates jobs for the local people to collect it and work in the recycling process. Sarah Ditty, Policy Director at Fashion Revolution is working towards a fairer, safer, cleaner and more transparent fashion industry. Due to the use of fibres such as cotton in the fashion industry, deforestation and biodiversity loss occur and the rate this happens at is increasing. Clothing production has more than doubled since 2000 and less than 1% of collected clothing is recycled into new textiles. Many materials used for textiles are derived from fossil fuels and can shed up 7,000 fibres in a wash, leading to the release of microplastics in the environment.
Single-use plastics: innovating our way out of a sustainability crisis
Dhruv Boruah, Founder at Plastic Hackathon uses plastic hackathons and thinkathons to join people from different backgrounds and age groups to tackle the plastic problem. They bring together people who work in human behaviour, branding, packaging, scientists and more. They work with young people and industry experts to come up with solutions. Ella O'Toole and Emily Cassius from Skipping Rocks Labs talked us through their innovative alternative use to plastic packaging – Ooho. Ooho is made from NOTPLA, a material made from sustainably sourced seaweed. It is completely home compostable and takes 4-6 weeks to completely degrade in the natural environment. It has been use for marathons where the Ooho's can be handed to runners and instantly consumed with no waste and litter produced. Skipping Rocks Labs are looking into using NOTPLA for other applications such as coffee cup liners, films, bags and take away boxes.
If you have any questions concerning the topics discussed in this blog, please contact us​ to speak to one of our dedicated consultants. If you're interested in reading more articles and blogs like this one, sign up to receive our free monthly digest.​​​​
​
Click here to receive regular updates on blog posts, webinars, and regulatory changes directly to your inbox