​The South Korean Act on the Registration and Evaluation of Chemicals, known as K-REACH, came into force on January 1st, 2015. Since then, the Act has been revised by the Ministry of Environment with a new amendment which came into force on 1st January this year. This amendment means that all existing chemical substances (those listed on the Korea Existing Chemicals List (KECL)) which are manufactured or imported into South Korea in quantities greater than or equal to one ton per year must be registered.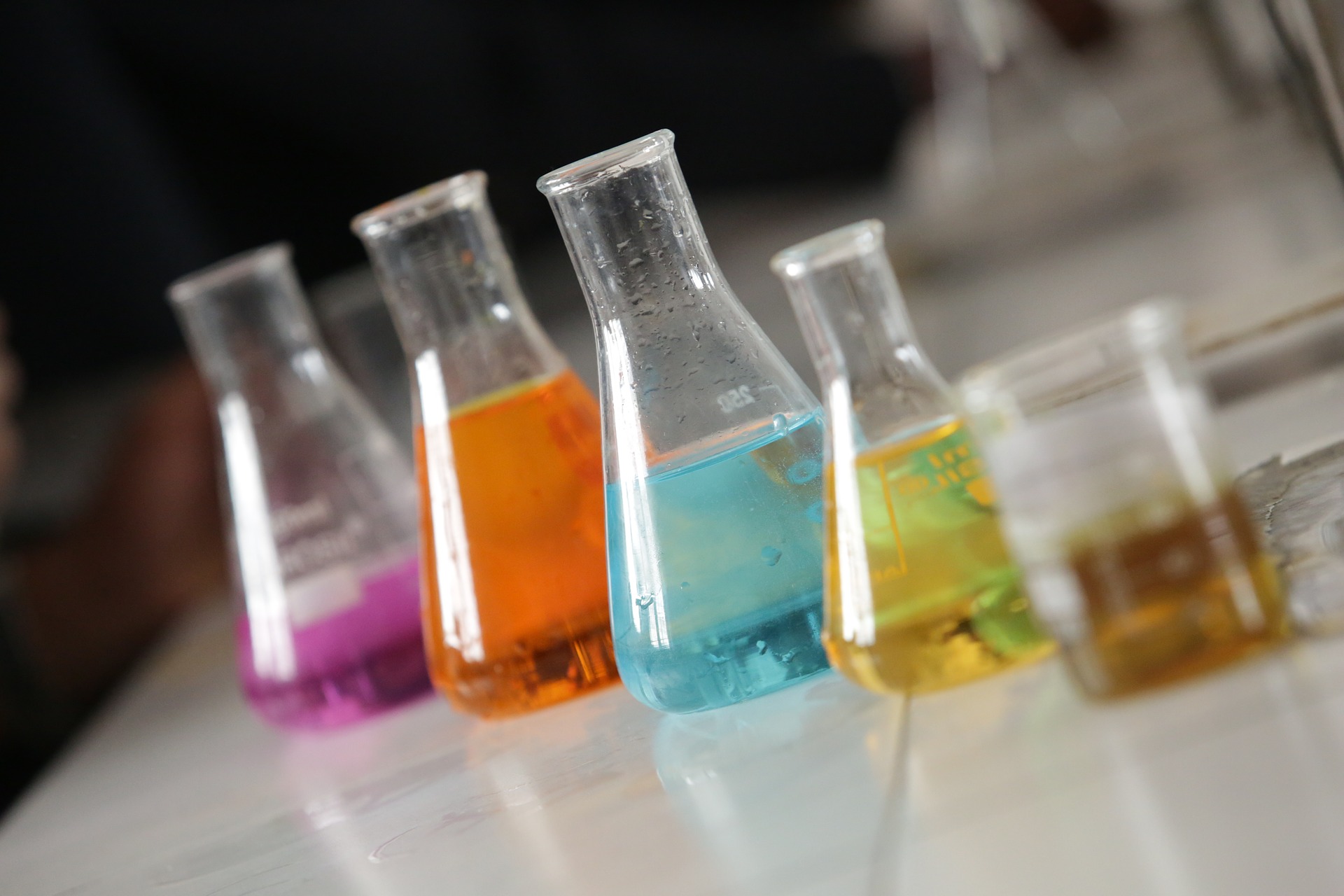 K-REACH mirrors the EU REACH regulation and aims to protect public health and the environment. The regulation introduces registration of chemical substances, screening of hazardous chemical substances, hazard and risk assessment of products containing chemical substances and hazardous substances and information sharing of chemical substances.

Pre-registration and registration deadlines
Producers of existing chemical substances must be pre-registered by June 30th, 2019. Pre-registration allows a registration grace period where a person is allowed to import existing chemical substances without full registrations. Foreign manufacturers or producers who export existing chemicals to South Korea can appoint an Only Representative as a legal entity to pre-register chemical substances on their behalf. The following deadlines apply to manufacturers and importers of chemical substances: ​​​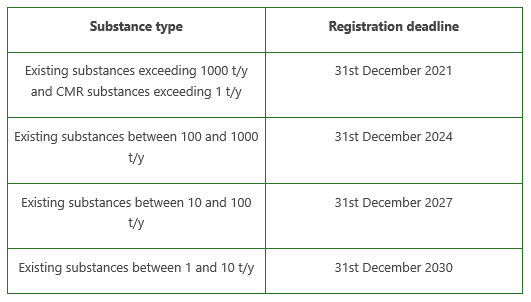 New substances
New substances manufactured or imported in quantities of at least 0.1 t/y must be registered before manufacturing or importation. A new substance is defined as one that is not: a chemical substance placed on the Korean market before 2nd February 1991 and notified by the Ministry of Environment on 23rd December 1996; or a chemical substance which has undergone the examination of toxicity under the former provisions or the provisions of this Act after 2nd February, 1991 and were announced by the Minister of Environment. Substance status can be determined by searching the KECL.
Registration details
The name, address of the manufacturer/importer/Only Representative
Identification of the chemical substance including name, molecular formula and graphic formula
Uses of the chemical details
Classification and labelling of the substance
Physical and chemical properties
Hazard data
Associated risks (applicable for substances produced in quantities greater than 10 t/y)
Guidance on safe uses
​Any other information specified under the Ordinance of the Ministry of Environment
Exemptions

K-REACH does not apply to:
Radioactive substances if the Atomic Energy Act
Pharmaceuticals and non-pharmaceutical drugs of the Pharmaceutical Affairs Act
Narcotics of the Act on the Control of Narcotics
Cosmetic and materials of the Cosmetics Act
Ingredients and agrochemicals of the Agrochemicals Control Act
Fertilisers of the Fertiliser Control Act
Food, food additives, tools, containers and package of the Food Sanitation Act
Livestock feeds of Act on Control of Livestock and Fish Feeds
Ammunitions of the Act on the Control of Firearms, Swords, Explosives
Military supplies of the Act on the Management of Military Supplies and of the Defence Acquisition Program Act (except for commercial goods under Article 3 of the Act on the Management of Military Supplies)
Health functional food of the Medical Device Act
Personal care products of Act on the Safety of Personal Care Products
Biocidal products of Consumer Chemicals and Biocide Safety Act
Chemical substances exempted from registration or notification:
Chemical substances imported contained in machinery
Chemical substances imported along with machinery or equipment for a test run

Chemical substances in product in solid state with specific shape for a certain function and not discharged during its use
Chemical substances designated and publicly notified by the Minister of Environment after deliberation by the Chemical Substance Evaluation Committee which has extremely low risk
Impurities, by-products, minerals, ores, glass, vegetable fats/oil, hydrogen, and oxygen, etc.
A substance itself existing in the nature or a substance obtained by using manpower, machine or gravity to the substance existing in the nature or by selecting after dissolving or floating thereof in the water
A base composing DNA or RNA, nucleoside which is a combination of base and sugar
If you have any questions regarding chemical compliance in South Korea please contact us to speak to one of our dedicated consultants. If you're interested in reading more articles and blogs like this one, sign up ​to receive our free monthly digest.​

Click here to receive regular updates on blog posts, webinars, and regulatory changes directly to your inbox