​The Packaging innovations event was held by Easyfairs over the 27th and 28th February with a major focus on sustainability. The Ecopack stage provided talks from industry experts, made more relevant than ever with the release of consultations from the UK Government. The consultations cover a tax on plastic packaging with less than 30% recycled content; a deposit return system for drinks containers; and reform of the UK's packaging producer responsibility system. The speakers urged producers and users of packaging in the audience to read the consultations and contribute their views on the potential changes.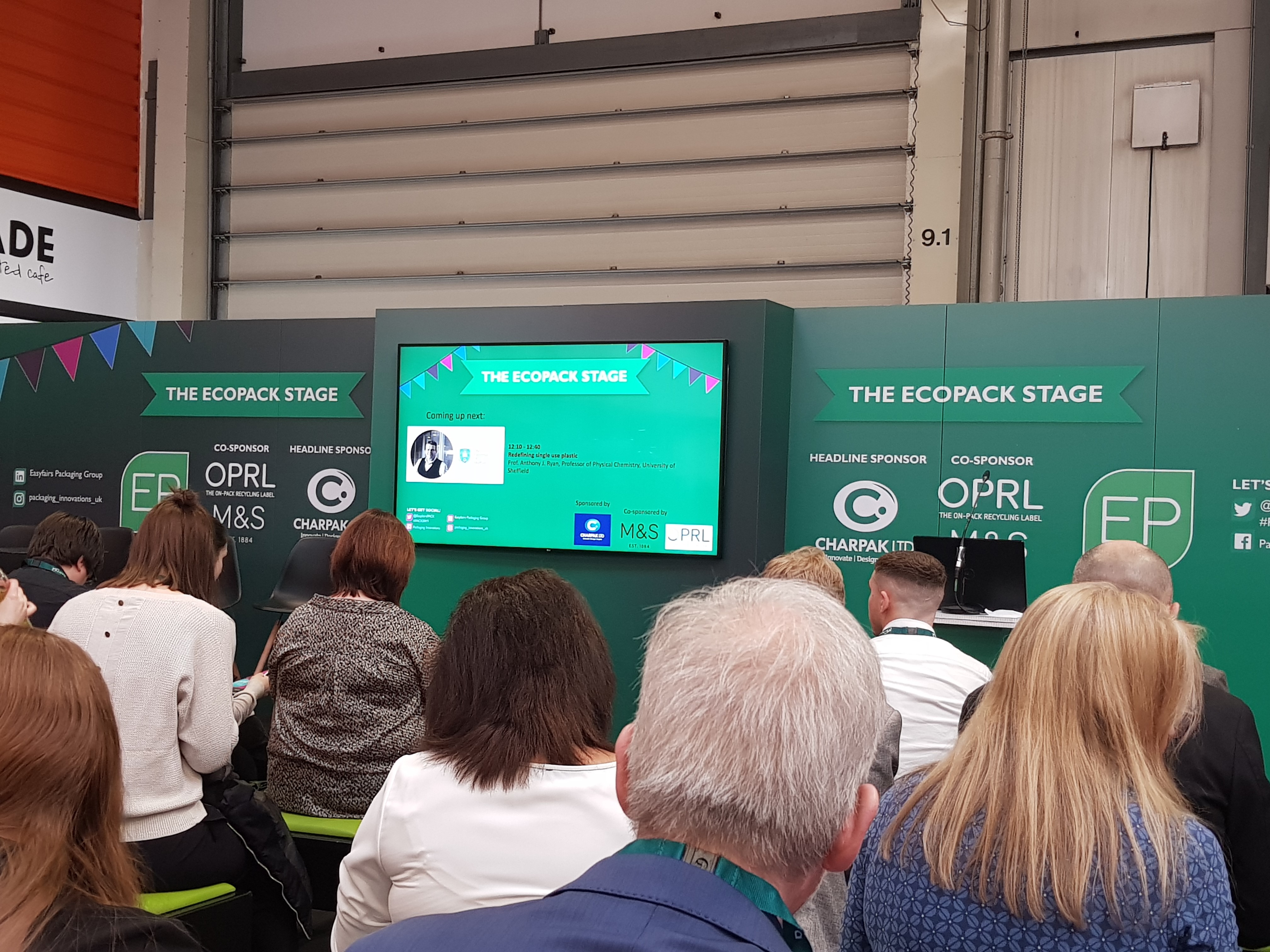 The first talk came from possibly the most opinionated of speakers, Sian Sutherland, Co-Founder of A Plastic Planet. Entitled 'People power, plastic pushers and plastic-free pioneers – humanising the plastic problem', Sian's talk showered the audience with plastic facts and statistics. According to A Plastic Planet, 91% of plastic is used only once (single-use); the UK's recycling rate is as low as 9% and 40% of all plastic is used for packaging. China banning the import of plastic waste has resulted in the UK shipping waste elsewhere, including countries such as Indonesia where 81% of their plastic waste is mismanaged. Furthermore, around 50 countries have banned plastic bags, whereas the UK has only imposed a small tax on plastic bags. A Plastic Planet's aim is to inspire the world to turn off the 'plastic tap'. They have invented a plastic free mark which brands can apply to use if their product meets the requirement of being 99% plastic free. So far, around 90 brands and businesses have already applied and over 2000 product lines have been made plastic free.
The second talk, from Iceland's Own Label and Packaging Manager, Ian Schofield, followed suit. Entitled, 'Iceland's COMMITMENT to remove plastics – No turning back! – The Big Update one year on!' Iceland has partnered with A Plastic Planet in their campaign to reduce plastics. The supermarket chain has had support from environmental bodies and recently opened their first plastic free fresh produce aisle in their Liverpool store. Ian explained their methods from reducing plastic, including producing lists of red, amber and green materials as a guide for their packaging. However, plastic alternatives don't come cheap – some can be up to 10 times more expensive. There needs to be more common ground for which materials are recyclable and compostable – brands such as Iceland don't want to waste time switching to alternatives which may not be recyclable across the UK. The advice to other producers to include plastic reduction in their product and packaging development brief and to use packaging supplier conferences to help remove plastic.
Bringing variety to the event, we heard from Prof. Antony J. Ryan, Professor of Physical Chemistry from the University of Sheffield. His talk, 'Redefining single use plastic', was based around a new research project, funded by the Plastic Research Innovation Fund, which brings together around 40 cross disciplinary researchers, including chemists, psychologists, linguists and sociologists to tackle the plastic problem. Their aim is to understand the benefits of plastic that we need to maintain, whilst balancing these against the health and environmental costs they impose. The project will look at life cycle analysis and environmental risk assessments and their effectiveness, with the possible need to set boundaries. There are many questions to consider in the project including: d​​​​o biodegradable and compostable plastics give people permission to throw them away? Can biofuels beat fossil fuel alternatives? Should we be manufacturing using a limited material set? Should we give packaging an economic value to prevent it becoming waste? The plastic problem is extremely complex and there is no simple answer, there is a lot of hype and misinformation surrounding plastics and microplastics. The professor called on producers to collaborate with the research team to work towards a solution.
Kevin Vyse, Senior Packaging Technologist and Circular Economy Lead spoke about how M&S is setting an example for adapting to the circular economy. Marks and Spencer's launched their 'Plan A 2025' which aims to support 1000 communities, help 10 million people live happier, healthier lives and convert M&S in to a zero-waste business. They have set targets, such as making all M&S packaging 'widely recyclable', each year these goals are published, and they are externally audited against them.
Innocent drink's Head of Circular Economy, Louise Stevens, spoke of the Innocent view of the circular economy. As a brand, Innocent drinks have been sustainably conscious since their inception, launching the first plastic bottle made from recycled plastic in 2007. In reality, plastic can't be recycled infinitely and there will continue to be a need for virgin plastic. Hence innocent have been looking at sustainable plastic feedstocks and currently used a biobased plastic which is chemically equivalent to PET. Louise believes the circular economy is a solution to both the plastic problem and climate change. To make their bottles circular, Innocent aim for the biobased plastic they use to be made from organic waste. By 2022, 100% of their bottles will be renewable, in other words no fossil fuel feed stocks will be used.
David Newman, MD for BBIA UK​ talked in depth about what compostable plastics are in his talk 'Will compostable plastics save the planet from plastic pollution? Exploring their role in the future of packaging'. EU compostable standards mean a plastic will compost in an industrial facility at greater than or equal to 58 degrees Celsius. Home composting is also possible, although there are no mandatory standards for this. There are currently over 50 composting plants in the UK which take materials from food waste collection and packaging contaminated with food waste. However, issues can arise due to contamination from non-compostable plastics in garden waste and home composting collections.
A different view of the circular economy came from Graham Bonwick from the Institute of Agri-Food Research and Innovation (Newcastle University) in the form of exploitation of agri-food waste. He explained there are risks associated with chemicals in plastics due to those added intentionally and those produced in the manufacturing process. 7 of these are classed as persistent, bio accumulative and toxic. Although bioplastics have a number of flaws: they can be more expensive, lack flexibility, are water soluble and have poor barrier performance. Currently, 40% of total food production ends up as waste, which provides an opportunity. Agri-food waste has been used to make nanofiber films which can be sprayed onto surfaces. Research into these have revealed the nanofibers have antimicrobial properties. Graham also spoke about the need to inform consumers of how sustainable the packaging they are purchasing is, possible through an on-pack index.
Hans Van Bochove, VP European public affairs at Coca-Cola European Partners, spoke about how recycling has been shown to be one of the most important issues to their customers. Feedback has shown people prefer glass to plastic bottles, although this opinion changes when the plastic used is made from recycled content. Coca-Cola have set targets to achieve 100% recycling through 100% collection of their bottles by 2025 and including 50% recycled PET in their bottles. Hans stressed the importance of an effective collection system for recycling to work, although a separate collection system for beverage would have major impact on the waste management infrastructure. Later on, in a panel discussion, concerns were expressed over a deposit return system. These included potential problems of contamination if consumers return the wrong containers, etc. and the need for analysis of the impact such a system would have on the current waste management infrastructure.
The future of plastic packaging is uncertain, and the current open consultations will have a significant impact on future changes. If you have any questions about the consultations or any of the topics in this blog, please contact us to speak to one of our consultants. If you're interested in reading more articles and blogs like this one, sign up to receive our free monthly digest.​​​
Click here to receive regular updates on blog posts, webinars, and regulatory changes directly to your inbox