The majority of Lorax staff attended RWM Conference 2018 after such a positive experience in 2017. We heard from countless waste and resources experts, consultants, members of advisory committees, NGOs and an inspiring MP. Key themes of the conference included global extended producer responsibility, plastic packaging and pollution, the future of EPR and deposit return systems… read on for highlights from the two days.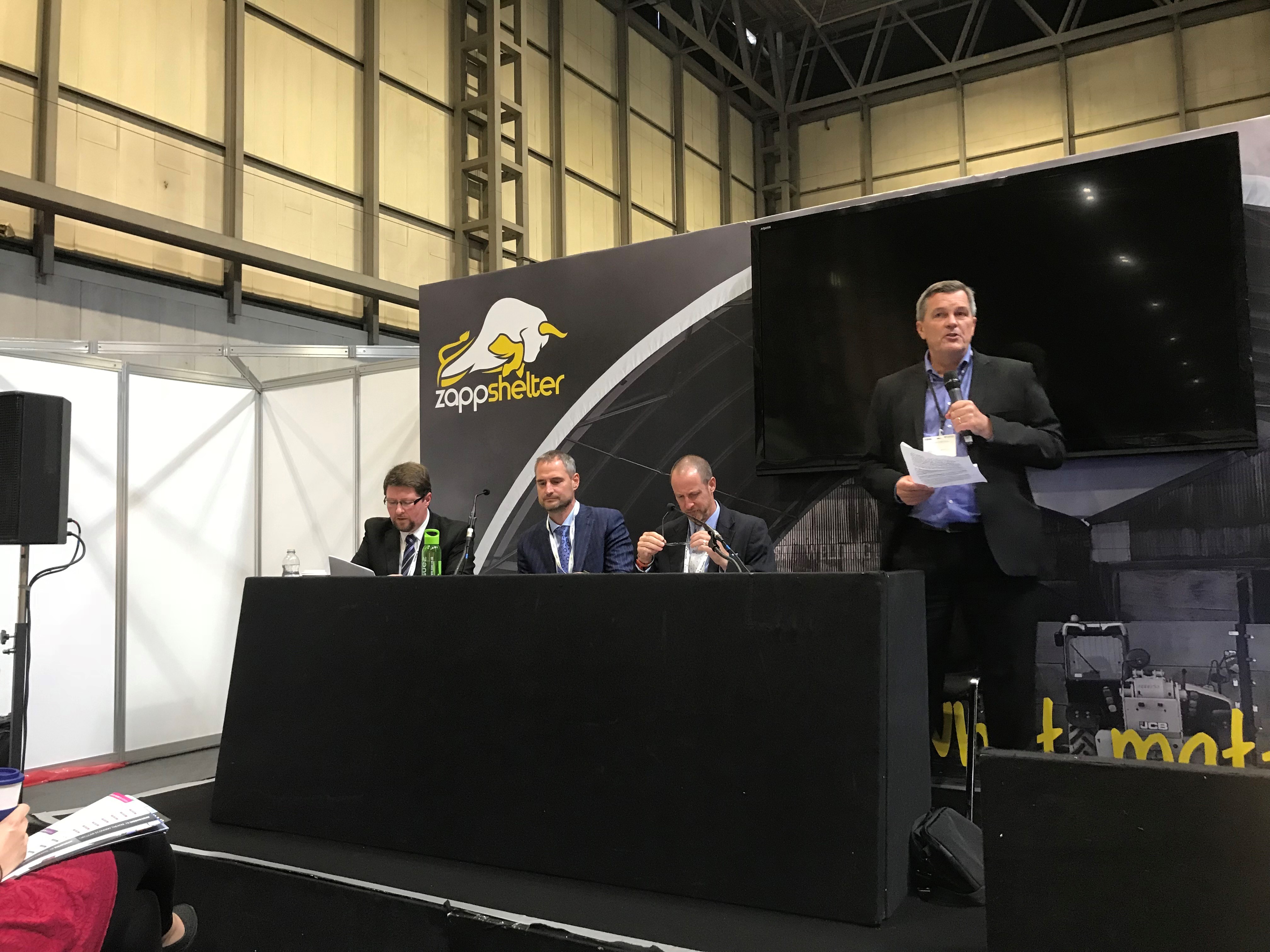 A controversial panel sparked debate on the global responsibility for post-consumer waste. Joanne Green, Senior Policy Advisor at Tearfund, explained how solid waste is growing rapidly with expectations that it will double in the next 20 to 25 years. This is an urgent problem in developing countries where increased dumping and burning of waste causes flooding, spreading of waterborne diseases and increasing breading grounds for mosquitos. She called for producers of single-use plastics to take greater responsibility for the waste they produce, such as single-use sachets and PET bottles. She advocates the idea that such multinational companies should collect at least one item for each one they produce. Next, James Beard, Recycling Services Manager at Valpak, recognised that waste mismanagement affects the poorest people in developing countries. In such situations, everyone blames each other when realistically, each person in the value chain needs to realise their role and responsibility. He stated that although producer responsibility is useful, it is not a silver bullet. The final panellist, David Newman Managing Director of Bio-based and Biodegradable Industries Association, has had experience advising governments in developing countries on waste management. He explained that the issue is not a lack of knowledge, but a lack of funding and support from the corporations who produce solid waste. This prevents the application of principles and legislation that we have here in the EU. Large corporations have resisted the implementation of systems such as EPR, hence laws such as the 2010 National Waste Law in Brazil still have not been applied. When asked to evaluate the success of producer responsibility in the UK, James Beard said that the reported recycling rates would suggest that the system has been successful. However, with the contribution of the landfill tax, it is difficult to define the effect that EPR has had. There have been legitimate criticisms of the system, such as no consumer education and promotion of domestic recycling. There are currently questions over the accuracy of recycling data and in some circumstances, large companies end up taking on the responsibilities of smaller companies. He concluded that EPR has helped waste management but there are improvements to be made. Newman's response was significantly less optimistic when he considers that only 9% of plastic packaging is recycled in the UK as a result of the EPR system. Producers in the UK pay roughly 10% of what producers in other EU countries pay into the system. Hence, most of the cost is covered by consumers through tax. Chair of the panel, Zoё Lenkiewicz raised an interesting point that companies such as Nestle spend $20 billion on marketing so why don't they spend more on waste management? Green agrees that the responsibility in developing countries shouldn't all be left to the governments who don't currently have the capacity or infrastructure to implement effective EPR systems. This would be a long-term project, although the urgency of the problem requires action now. Multinational companies who are making the waste have such huge budgets and abilities to take action, for example by creating incentives for the collection of single use products such as sachets. Again, Newman was less optimistic with his answers, arguing that companies will fight against taking on responsibility. He mentioned the possibility of including plastics in the Basel Convention with a tax on virgin plastics to hurt the pockets of multinational companies as the only way to get a result.
Next up, a topical panel discussion on deposit and refund systems, composed of Nick Brown, Coca Cola European Partners; David Barnes, Zero Waste Scotland; Stuart Hayward-Higham, SUEZ; and Dominic Hogg, Eunomia. Deposit return systems have the ability to capture high value material with high value use, but it is essential to have targets to include a greater percentage of recycled content in products to provide a market for the recycled material. There were questions over an on-the-go system to prevent littering and avoid disruption of kerbside collections which are already working efficiently. However, there is a debate over which products are purely on-the-go use and where costly reverse vending machines should be installed. It was generally agreed that DRS should work effectively alongside an EPR system where producers cover the full cost of both. Upon implementation of a DRS, local governments should receive funding from producers to help with recycling, proper fraud control, registration of products, etc. furthermore, there is a need for strong regulations and enforcement to avoid fraudulent practices. There are some potential issues with such a system, considering that it focuses on recycling when reuse and prevention should be higher priorities. In addition, there are technical problems such as when a bottle loses its label and hence redeemable barcode – the incentive to return the bottle is lost but it is still a valuable material.
Following the proposed charge on single-use plastics, Paul Bradley from DEFRA discussed whether the plastics strategy will work. Key chapters of the strategy, which should be published later this year, cover: production, consumption, end of life, waste crime, food waste, plastics, innovation and natural leadership. A consultation will take place later this year to consider packaging recovery targets, reform of the EPR system, and options for a DRS, which will involve working closely with the devolved administrations. Key aims are to increase recyclability, reduce littering and place costs on producers through placed on the market fees or market-based mechanisms such as eco-modulated fees. There are currently 4 models in consideration for a full EPR scheme, two of which are market-based approaches: enhanced near to business as usual with compliance scheme negotiating with LAs or producer deposits. The other two approaches are primarily not-for-profit: Single Producer Organisation for household-like packaging and market-based evidence system for commercial/industrial packaging or a Single Producer Organisation. A producer deposit system is where producers are charged a deposit for packaging placed on the market which is redeemed when they have proved that it had been recycled, possibly through Packaging Recovery Notes. DEFRA is working closely with the Treasury on the consultation for single-use plastics and they are looking to create a joint policy.
The last panel of the day was a variety of speakers discussing the future of extended producer responsibility: Adrian Hawkes, Valpak; Paul Bradley, DEFRA; Paul Vanston, INCPEN; James Piper, Ecosurety; Adam Read, SUEZ; and Margaret Bates, CIWM. To streamline the EPR system in the UK, all retailers should have the same form of packaging which would mean all councils can have the same streams of collections. Furthermore, producers should provide clear instructions for consumers for end-of-life of their products. As a whole, packaging should be made more recyclable with the reduction of the number of different polymers on the market. There is agreement that producers support a virgin material tax which shouldn't be part of an EPR system. Implementation of the Circular Economy Package will mean that 80% of costs will be covered by producers.
Next up, Mike Webster spoke about global producer responsibility for global waste management. As the CEO of WasteAid UK, Mike has seen first hand the challenges that countries face with waste management when they are faced with a crucial lack of infrastructure. In South Asia, around 90% of solid waste isn't even collected. Trends show that as countries get more developed, they produce more waste but the infrastructure for formal waste collection is still catching up. There are often responsibilities for producers of waste in such countries under the law to collect their end-of-life products and packaging, however with weak governments, there is rarely enough enforcement. Global producers in contrast are in a position to act and essentially, they need to work with the thriving informal waste sector.
The second day of the conference didn't disappoint – first we heard a from MP and Chair of the Environment Audit Committee (EAC), Mary Creagh. She updated us on the UK's commitment to the UN Sustainability Development Goals, announcing that the Prime Minister will make a statement next week on our progress towards the goals, which include sustainable cities and communities as well as responsible production and consumption. Currently, producers don't design packaging with recycling in mind and collection of these materials is paid for by consumers through tax. The EAC has called for higher fees on hard to recycle materials, fewer types of material in production, a latte levy on disposable coffee cups and for plastic bottles to contain at least 50% recycled content. She stressed that regulation can drive innovation in these areas. According to Therease Coffey, the waste and resources strategy should be expected in late November this year. The National Audit Office said about the PRN system, that it is a comfortable way for the government to meet targets without addressing the recycling issue. Recycling rates in the UK are lower than those in a lot of other EU countries, we export the majority of our recycling, producers pay considerably less into the system than those in other EU countries and the system is open to fraud and abuse. Spot checks haven't been happening on businesses who could be potential free riders due to budget cuts and the Environment Agency's other priorities this year, such as the heat wave. Brexit has the potential for a major impact on environmental policy, covering waste, resources, chemicals, the list goes on. If the UK leaves the EU with no deal, UK companies who have spent large amounts of money registering their chemicals with the European Chemicals Agency will no longer have valid registrations. They will likely have to register with a new UK Agency, which will be created using tax payer's money, trebling costs to UK businesses. Furthermore, the accountability for environmental policy which is currently provided by the European Commission and the European Court of Justice (ECJ) will not be replaced with the same powers. The governments proposed environmental watchdog would only have powers to give advisory notices, not take government to court or impose fines and would only have powers in England. The EAC proposed an Environmental Enforcement and Audit Office (EEAO) to take on the powers of the commission and the ECJ. In addition, there should be 5-yearly legally binding targets for the government.
Next up, another panel discussion on Extended Producer Responsibility and Packaging with Paul Vanston, INCPEN; Lee Marshal, LARAC and Stuart Higham, Suez (pictured above). The panel discussed how EPR needs to work for the whole value chain and must influence product design. There is a need for a level playing field, which includes internet sellers. The information available to consumers needs to be clearer, a traffic light system was suggested with colours indicating the ease of recyclability. Additionally, the placed on the market charge should reflect the actual cost of treatment. The next few months offer the chance to make changes which will be implemented for the next 20 years or so, this holds significance in areas such as the PRN system which has only been updated once since its inception.
It is clear that there are revolutionary changes coming just around the corner with extended producer responsibility taking centre​ stage in the waste and resources world. We have heard about the UK government's consultation on single-use plastics and EU's circular economy package with higher than ever recycling targets. However, a common theme is a call on producers, the people creating solid waste, to take greater responsibility and action. Thank you RWM for yet another informative, insightful and thought-provoking conference. We hope to return next year.
If you have any questions about the topics in this blog, please contact us to speak to one of our consultants. If you're interested in reading more articles and blogs such as this one, sign up to our free monthly digest.
​
​
Click here to receive regular updates on blog posts, webinars, and regulatory changes directly to your inbox